Friday Cat Blogging ... Skinning a Cat and the Role of Leadership
Topic: 1) General Management
Well someone told me that there is a cat blogging thing occurring on Friday's somewhere on the net. Basically someone takes casual pictures of a cat and posts them in a blog for others to comment. Even though I like cats, I don't quite get it yet. I will have to learn more! In any case, here's my version of Friday Night Cat Blogging ...
It becomes very easy in heated management discussions to get overly intellectual and to try to argue the best way to approach something. While I believe one should avoid taking paths that fly in the face of good management theory, sometimes it is not possible to know the best path. As long as the discussion remains goal-oriented, I think there are many ways of reaching the same goal. Hence, the pragmatic phrase "there are many ways to skin a cat" (where there are many ways to do the task but where some ways are probably harder than others).
In these cases, I think leadership plays a crucial role. Since the path to the goal is not clear, commitment and resolve are needed to get to the goal. Leaders will help the company re-adapt, improvise, and conquer when there are obstacles.
And here is a picture in memorium of one of my cats ...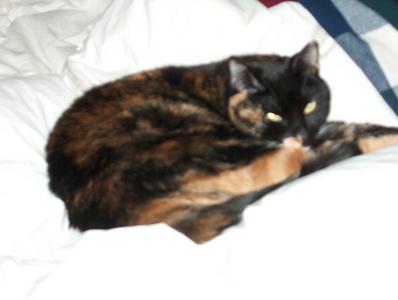 Steve Shu
Managing Director
S4 Management Group
Email: sshu@s4management.com
Web: http://www.s4management.com


Posted by sshu-s4 (c) S4 Management Group LLC at 12:01 AM CDT
Updated: October 17, 2004 11:38 PM CDT